On Sunday, the Defense Ministry said Russian forces struck Ukrainian positions in the area with airborne troops, missiles and artillery.
Loading
Neither Putin, who is the supreme commander-in-chief of the Russian armed forces, nor Defense Minister Sergei Shoigu had publicly commented on the defeat Sunday noon.
"We are proud of Moscow and love this city with its majestic antiquity and modern, dynamic pace of life, the charm of its cozy parks, alleys and streets, and the abundance of business and cultural events," Putin told Muscovites , according to a Kremlin transcript of his congratulatory message.
Putin, who described his shock when told, as a KGB spy in East Germany, that "Moscow is silent" as the Berlin Wall crumbles, said those who were fallen during the operation in Ukraine had given their lives for Russia.
The Department of Defense did not respond to a request for comment.
"They don't give a fuck," a prominent pro-war military blogger, who posts under the name Rybar, wrote on Telegram.
"Now is not the time to shut up and say nothing…it seriously damages the cause."
On Saturday, the ministry announced a "regrouping" that would move troops away from Kharkiv to focus on the Donetsk region further east in Ukraine – a statement that has drawn the ire of many Russian military bloggers.
Some of the pro-Kremlin war correspondents and former and current military personnel who have amassed large followers on Telegram have accused the ministry of downplaying the defeat.
Loading
Igor Girkin, a nationalist activist and former FSB officer who helped launch a 2014 war in Ukraine's eastern Donbass region, compared the collapse of one of the conflict's main front lines to the Battle of Mukden in 1905 – a catastrophic defeat in the Russo-Japanese War that sparked the Russian Revolution of 1905.
Ukraine hailed its rapid advance, which saw thousands of Russian troops flee, leaving behind stockpiles of ammunition and equipment, as a turning point in the 6-month-old war.
Girkin, who has not spared his criticism of the country's top brass, dubbing Defense Minister Shoigu "the cardboard marshal", has repeatedly said that Russia will be defeated in Ukraine if it does not declare not a national mobilization.
Nationalist anger at military failure is potentially a far bigger issue for the Kremlin than pro-Western liberal criticism of Putin: opinion polls continue to show broad support for what Moscow calls "the military operation special".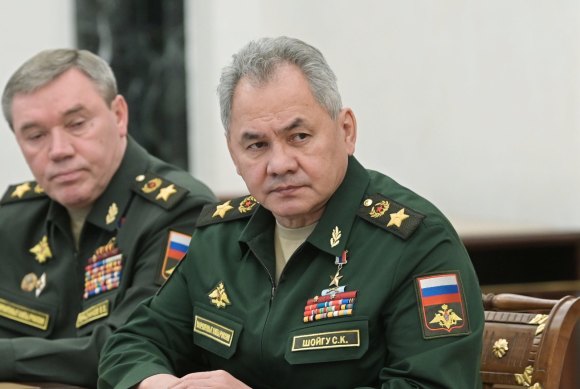 As the capital celebrated Moscow Day with street parties and concerts on Saturday, rumblings of concern even spread through the usually submissive Russian parliament.
Sergei Mironov, leader of the nominal but Putin-loyal opposition party Fair Russia, said on Twitter that a fireworks display in honor of the holiday should be canceled given the military situation.
A message reposted on Telegram by prominent war correspondent Semyon Pegov called the celebrations in Moscow "blasphemous" and the Russian authorities' refusal to engage in full-scale war "schizophrenic".
"Either Russia will become itself through the birth of a new political elite… or it will cease to exist," it read.
Ukrainian forces have continued to push north into the Kharkiv region and advance south and east, Ukraine's army chief said on Sunday, a day after their rapid push pushed Russia to abandon its main stronghold in the region.
Ukrainian officials have accused retreating Russian forces of launching retaliatory attacks on civilian infrastructure, including a thermal power plant in Kharkiv, which Kyiv authorities say caused widespread blackouts.
"No military facilities, the goal is to deprive people of light and heat," Ukrainian President Volodymyr Zelensky wrote on Twitter of the attacks.
Moscow denies that its forces deliberately target civilians.
Zelensky described the Ukraine offensive as a potential breakthrough in the six-month war, and said winter could see further territorial gains if Kyiv received more powerful weapons.
In the worst defeat for Moscow forces since being pushed back from the outskirts of the capital Kyiv in March, thousands of Russian troops left behind ammunition and equipment as they fled the town of Izium, which they had used as a logistics hub.
Ukraine's Commander-in-Chief, General Valeriy Zaluzhnyi, said the armed forces had regained control of more than 3000 km2 since the beginning of this month.
Zelensky said on Sunday evening that the Russian attacks caused a blackout in the Kharkiv and Donetsk regions, and partial blackouts in the Zaporizhzhia, Dnipropetrovsk and Sumy regions.
"They are unable to come to terms with defeats on the battlefield," Dnipropetrovsk Governor Valentyn Reznichenko wrote on Telegram.
Kyrylo Tymoshenko, the deputy head of the president's office, posted an image on Telegram of a burning power plant, but power has been restored in some areas.
Kharkiv Mayor Ihor Terekhov described the attacks on infrastructure as "cynical revenge" for the success of Ukrainian troops at the front, particularly in Kharkiv.
Ukraine's gains are politically important for Zelensky as he seeks to keep Europe united behind Ukraine – supplying arms and cash – even as an energy crisis looms this winter following cuts in Russian gas supplies to European customers.
Zelensky said Ukrainian forces would continue to advance.
"We will not stand still," he said in a CNN interview recorded Friday in Kyiv. "We are going to move slowly, gradually."
Reuters
Get a grade directly from our foreigner correspondents on what's making headlines around the world. Sign up for the weekly What in the World newsletter here.